Sunday, October 26, 2014 • 10:00 AM
U.S. Bank Building Lobby
& The 23rd Psalm: God's Love Explained — A Psalm of David: The LORD is my shepherd; I shall not want. He makes me to lie down in green pastures; He leads me beside the still waters. He restores my soul; He leads me in the paths of righteousness for His name's sake. Even though I walk through the valley of the shadow of death, I will fear no evil; for You are with me; Your rod and Your staff, they comfort me. You prepare a table before me in the presence of my enemies; You anoint my head with oil; My cup runs over. Surely goodness and mercy shall follow me all the days of my life; And I will dwell in the house of the LORD forever! (Psalm 23)
Please join us this Sunday, October 26th at 10:00 am, as Calvary Bible Church hosts its weekly Bible Teaching and Communion Fellowship Service in the front lobby of the U.S. Bank Building, 303 Crescent Avenue (near the corner of Crescent & Metropole), offering a Biblical study entitled: The 23rd Psalm: God's Love Explained taken from the Book of Psalms, Chapters 22 & 23. Please join us and hear this message of love and truth from God's Life-Changing Word!
The parable story of "The Good Shepherd," as told by Jesus Himself, can be found in the Gospel of John, Chapter 10. Here, our Lord describes His leadership role with believers and His willingness to even "lay down His life for His sheep." (John 10:11) But it is in Psalms 22, 23 and 24 that we see WHY and HOW Jesus is willing to lay down His life for us: His unbelievable, undying love! Psalm 22, for instance, details the torture and pain Jesus endured for our sins. "They pierced my hands and my feet. I can count all my bones. They look, [and] they stare at me; They divide my garments among themselves, and for my clothing they cast lots." (Psalm 22:16-18) The act of dying on the cross by Jesus was the ultimate act of love, so that our sins could be forgiven. (John 3:16) It is fitting, therefore, that Psalm 22 would be followed with a description of this loving relationship with Him, who bore our sins.
Psalm 23 explains how God's love works in our daily lives and begins with, "The LORD is my shepherd, I shall not want." It's not surprising that Jesus, over 1000 years later, would say "I am the Good Shepherd; and I know My sheep, and am known by My own." (John 10:14) The prophet Isaiah tells us that as sinners, we need a shepherd, a guide to lead us through life: "All we like sheep have gone astray; We have turned, every one, to his own way." (Isaiah 53:6) Our guide is Jesus, the Good Shepherd. He leads us, as Psalm 23 goes on to say: "in the paths of righteousness for His name's sake." Our LORD'S guiding influence is echoed gain in Proverbs 3:5-6: "Trust in the LORD with all your heart, and lean not on your own understanding. In all your ways acknowledge Him, and He shall direct your paths."
But the love of our Shepherd doesn't end with just His loving guidance alone. He meets our daily needs, protects us from evil forces that would try to harm us, comforts us in affliction, anoints us as heavenly royalty, and showers us with His mercy and loving kindness. The 23rd Psalm ends with the same promise Jesus gave to Nicodemus (and us) in John 3:16: Everlasting Life! "And I will dwell in the house of the LORD forever!" Now, that's a promise you can bank on!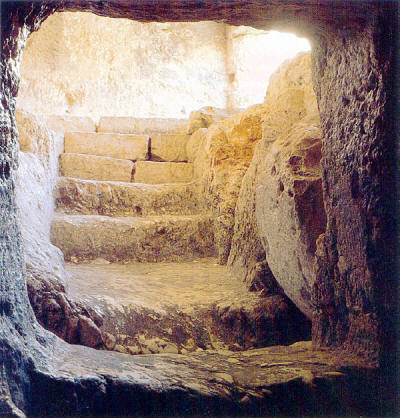 His Empty Tomb Is Our Guarantee of Our Own Resurrection to Life!
When Jesus appeared to His disciples after His resurrection in His new, glorified body, He told them, "Thus it is written, and thus it was necessary for the Christ (the Messiah King) to suffer and to rise from the dead on the third day, and that repentance and remission of sins should be preached in His name to all nations." (Luke 24:46-47) This is the true "gospel," the "good news" that ministers of our Lord are commanded to preach: repentance of your sins with the promise of everlasting life with Him in heaven. Your faith in this promise "comes by hearing, and hearing by the word of God." (Romans 10:17) There is no other way to eternal life after you die. Join us this Sunday and learn what God has to say about your future, as written in His inspired Holy Word... the Bible. Become a REAL Christian... a true follower of Jesus Christ. He gave up His life that we – each and every one of us -- might have eternal life!
Paul, in his letters to the early Church, tells us that it is Jesus Christ who saves us from sin and gives us eternal life -- we do not save ourselves. Trying to be "a good person" or doing good deeds does not lead to salvation. To both Jews and pagans, Paul preached "repentance [of sin] toward God and faith [commitment] toward our Lord Jesus Christ." (Acts 20:21) It is only by our repentance of sin (turning away from it) and direct commitment to Jesus Christ -- not belonging to a particular religion, following a church denomination, or doing "good works" -- that changes in our life and our eternal salvation are assured. Peter tells us how easy it is to find salvation: "Repent and be baptized, every one of you, in the name of Jesus Christ for the forgiveness of your sins, and you will receive the gift of the Holy Spirit." (Acts 2:38) Are you ready to receive the free gift of eternal life with Jesus Christ?
| | |
| --- | --- |
| | I am the Way, the Truth, and the Life. No one comes to the Father except by me. |
| | He who has seen Me, has seen the Father. |
| | I and the Father are one. |
| | You are My friends, if you do what I command you |
| | If anyone loves Me, he will keep My word. |
| | This is My commandment: love one another. |
Each week's study is taught by Pastor Jason Gant, bringing you the loving and living Word of God from the Bible, chapter-by-chapter, verse-by-verse. Everyone is welcomed, and transportation is happily provided. Attendees at this Sunday's service will have the opportunity to ask their Bible questions and take part in a brief discussion period after the teaching. Our "Coffee & Carbs Fellowship" follows immediately afterwards. Please, come and join us!!
Calvary Bible Church meets each week in the front lobby of the U.S. Bank Building, 303 Crescent Avenue (at the corner of Crescent & Metropole). For more information, please call 310-510-3003. Can't join us this Sunday? Visit Pastor Jason's new blog for answers to your questions regarding the Christian Life at www.onepastorsperspective.com. In the meantime, if you need prayer. please call our toll-free 24-Hour Prayer Line 1-866-Holy-Word (465-9967) And remember... Read the Book, Learn the Truth!
End Times Signs Which Have Been Fulfilled Are Not Highlighted.
The End Signs Yet To Come Appear In Yellow At End of List.
Signs To Come AFTER Rapture of the Church Appear in Pink.

Hover Mouse Pointer Over Blue Links To Reveal Full Bible Verse
| | |
| --- | --- |
| | Exiled Jews Would Return to Israel |
| | Nation of Israel Restored (1948) |
| | Israel Will Prosper and Grow Great |
| | Israel's Land & Cities Will Be Rebuilt |
| | Return of the Hebrew Language |
| | Israel Fills The World With Fruit |
| | When Israel Blooms, Jesus Returns! |
| | Gospel Preached to All Nations |
| | Travel & Knowledge Will Increase |
| | Wars & Rumors of Wars |
| | Earthquakes & Famines Worldwide |
| | Pestilence & Disease Worldwide Like HIV, Bird Flu, Flesh-Eating Bacteria, Diseases with No Cure |
| | Signs Appear As Birth (Labor) Pains: Earthquakes Are Bigger & Occur With Greater Frequency |
| | Tribulations & Persecutions |
| | False Prophets Will Deceive Many, e.g. Harold Camping's May 21, 2011 "Judgment Day" |
| | Godlessness Throughout The World |
| | Apostasy (Falling Away) of Church |
| | Apostasy Before Rapture of Church |
| | Scoffers Question Jesus 2nd Coming |
| | Russian & Iranian Alliance (Occurred Nov 2009) |
| | Fearful Sights & Signs From Heaven |
| | Russia & Iran Invade Israel from The North |
| | Attack of Israel's "Unwalled Villages" |
| | Nuclear Weapons Used Against & Inside Israel |
| | The City of Damascus, Capital of Syria, Will Be Destroyed in a Single Day |
| | Rapture of The Church: The Dead & The Living Snatched Up To Heaven by Jesus Himself |
| | Popular World Leader Confirms A 7-Year Peace Treaty Between Israel & The Arab Nations |
| | Popular World Leader Survives A Fatal Sword Assassination Attempt |
| | Popular World Leader Has Withered Right Arm & Blinded Right Eye From The Assassination Attack |
| | World Leader Becomes So Popular, The Whole World Follows Him! |
| | Popular World Leader Becomes Anti-Christ, Goes Into The Temple, Declaring Himself Messiah |
| | Anti-Christ Exalts Himself Above All, Declaring That He Is God & Is To Be Worshipped As Such! |
| | Anti-Christ Speaks Blasphemies Against God; Rules Until Jesus' Second Coming |
| | Anti-Christ Reigns For 3.5 Years (1290 Days) |
Hover Mouse Pointer Over Blue Links Above To Reveal Full Bible Verse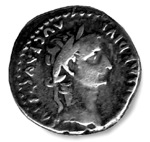 The Denarius (Latin "de-na'-ri-us" - Greek "denarion") was the most popular silver coin used in everyday life throughout the Roman Empire at the time of Jesus. The value of the Denarius was about 20 U.S. cents, the ordinary wage of a Roman soldier and a day laborer. The Latin word "denarius" is uniformly translated as "penny" (British "pence") in the 1611 King James Version of the Bible and "shilling" in the American Standard Revised Version. Except in
Matthew 22:19
;
Mark 12:15
and
Luke 20:24
, where the Latin word is used, the Denarius refers to the coin in which tribute (taxes) was paid to the Roman government.
The Silver Denarius above was issued by Caesar Tiberius and it remained in circulation during his rule from 14-37 AD. The coin was about the size of our U.S. quarter, and it is most probably the same Denarius that Jesus used when He said,
"Render to Caesar the things that are Caesar's, and to God the things that are God's." (
Mark 12:17
)
The Denarius was not only used to pay Roman taxes, but was widely used in commerce, because of its intrinsic metallurgical value. Twenty-five Denarii were equal to one Aureus, the standard gold coin of the Empire at the time of Caesar Augustus, when Jesus was born. It had a value of about $5.00 and could be spent anywhere in the known world.