Sunday, August 30, 2015 • 10:00 AM
U.S. Bank Building Lobby
& Beatitudes: A Guide For Christians — And seeing the multitudes, He went up on a mountain, and when He was seated His disciples came to Him. Then He opened His mouth and taught them, saying: "Blessed are the poor in spirit, for theirs is the kingdom of heaven. Blessed are those who mourn, for they shall be comforted. Blessed are the meek, for they shall inherit the earth. Blessed are those who hunger and thirst for righteousness, for they shall be filled. Blessed are the merciful, for they shall obtain mercy. Blessed are the pure in heart, for they shall see God. Blessed are the peacemakers, for they shall be called sons of God. Blessed are those who are persecuted for righteousness ' sake, for theirs is the kingdom of heaven. Blessed are you when they revile and persecute you, and say all kinds of evil against you falsely for My sake. (Matthew 5:1-11)
Please join us this Sunday, August 30th at 10:00 am., as Calvary Bible Church hosts its weekly Bible Teaching and Fellowship Service in the front lobby of the U.S. Bank Building, 303 Crescent Avenue (near the corner of Crescent & Metropole), offering a Biblical study entitled: The Beatitudes: A Guide For Christians, taken from the Gospel of Matthew, Chapter 5. All are welcome to join us and hear this message of love and truth from God's Life-Changing Word!
The Gospel of Matthew is unique among the four Gospels of the New Testament in that it was written specifically to the Jews of Israel. It was originally written in the Jews common language at the time, Aramaic, and later translated into Hebrew, and subsequently Greek. Biblical historian Henry H. Halley tell us that "the special emphasis of Matthew is that Jesus is the Messiah, as foretold by the Old Testament prophets. He quotes from and refers to the Old Testament more often than any other New Testament author and seems to have had particularly Jewish readers in mind.
The term "kingdom" or "kingdom of heaven," for instance, occurs so often (43 times) that this Gospel is often called the "Gospel of the Kingdom." Matthew presents his material overall in chronological order, but within that order he often groups his material by subject matter. He gives Jesus' discourses quite fully, especially the Sermon on the Mount -- the Beatitudes (Matthew 5:7) and Jesus' discourse about the coming end of the world (Chapters 24-25)
This Gospel does not name its author, but it has been accepted as the work of Matthew ever since the early church fathers, beginning with Papias, who was a student of the Apostle John. We know almost nothing of Matthew, who is also called Levi. He is mentioned in the other three gospels as one of the twelve closest followers of Jesus. The only thing Matthew says about himself is that he was a tax collector for the Romans. These tax collectors had to be rather well off, since they had to prepay each year's taxes and then were allowed to recover the amount, with interest, from the people. Although the interest charges were in theory limited to a fair amount, the reality was that often the tax collectors charged more than they should.
But the real problem was that the Law of Moses strictly prohibited charging fellow Jews any interest at all. Thus, the tax collectors ordinarily were viewed as people who did not care about the Law of Moses and were generally despised for their "unreligious" beliefs. Although he was about as crooked as they come, when Matthew met Jesus and choose to follow Him, everything certainly changed in his life! Wouldn't you like a change for the better, too? You can! Like Matthew, when you admit you are a sinner, turning away from that sinful lifestyle, and accept Jesus into your life, you become "born again," a child of God and an inheritor of eternal life – a promise made by Jesus Himself in John 3:16!!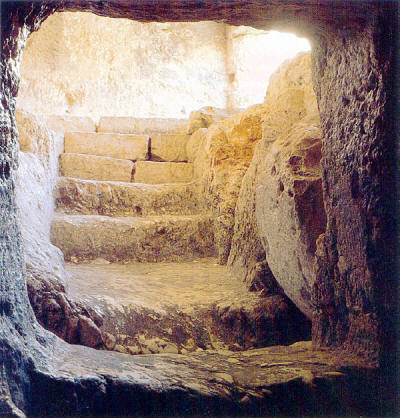 His Tomb Is Our Guarantee of Our Own Resurrection to Life!
When Jesus appeared to His disciples after His resurrection in His new, glorified body, He told them, "Thus it is written, and thus it was necessary for the Christ (the Messiah King) to suffer and to rise from the dead on the third day, and that repentance and remission of sins should be preached in His name to all nations." (Luke 24:46-47) This is the true "gospel," the "good news" that ministers of our Lord are commanded to preach: repentance of your sins with the promise of everlasting life with Him in heaven. Your faith in this promise "comes by hearing, and hearing by the word of God." (Romans 10:17) There is no other way to eternal life after you die. Join us this Sunday and learn what God has to say about your future, as written in His inspired Holy Word... the Bible. Become a REAL Christian... a true follower of Jesus Christ. He gave up His life that we – each and every one of us -- might have eternal life!
Paul, in his letters to the early Church, tells us that it is Jesus Christ who saves us from sin and gives us eternal life -- we do not save ourselves. Trying to be "a good person" or doing good deeds does not lead to salvation. To both Jews and pagans, Paul preached "repentance [of sin] toward God and faith [commitment] toward our Lord Jesus Christ." (Acts 20:21) It is only by our repentance of sin (turning away from it) and direct commitment to Jesus Christ -- not belonging to a particular religion, following a church denomination, or doing "good works" -- that changes in our life and our eternal salvation are assured. Peter tells us how easy it is to find salvation: "Repent and be baptized, every one of you, in the name of Jesus Christ for the forgiveness of your sins, and you will receive the gift of the Holy Spirit." (Acts 2:38) Are you ready to receive the free gift of eternal life with Jesus Christ?
| | |
| --- | --- |
| | I am the Way, the Truth, and the Life. No one comes to the Father except by me. |
| | He who has seen Me, has seen the Father. |
| | I and the Father are one. |
| | You are My friends, if you do what I command you |
| | If anyone loves Me, he will keep My word. |
| | This is My commandment: love one another. |
Each week's study is taught by Pastor Jason Gant, bringing you the loving and living Word of God from the Bible, chapter-by-chapter, verse-by-verse. Everyone is welcomed, and transportation is happily provided. Attendees at this Sunday's service will have the opportunity to ask their Bible questions and take part in a brief discussion period after the teaching. Our "Coffee & Carbs Fellowship" follows immediately afterwards. Please, come and join us!!
Calvary Bible Church meets each week in the front lobby of the U.S. Bank Building, 303 Crescent Avenue (at the corner of Crescent & Metropole). For more information, please call 310-510-3003. Can't join us this Sunday? Visit Pastor Jason's new blog for answers to your questions regarding the Christian Life at www.onepastorsperspective.com. In the meantime, if you need prayer. please call our toll-free 24-Hour Prayer Line 1-866-Holy-Word (465-9967) And remember... Read the Book, Learn the Truth!
End Times Signs Which Have Been Fulfilled Are Not Highlighted.
The End Signs Yet To Come Appear In Yellow At End of List.
Signs To Come AFTER Rapture of the Church Appear in Pink.

Hover Mouse Pointer Over Blue Links To Reveal Full Bible Verse
| | |
| --- | --- |
| | Exiled Jews Would Return to Israel |
| | Nation of Israel Restored (1948) |
| | Israel Will Prosper and Grow Great |
| | Israel's Land & Cities Will Be Rebuilt |
| | Return of the Hebrew Language |
| | Israel Fills The World With Fruit |
| | When Israel Blooms, Jesus Returns! |
| | Gospel Preached to All Nations |
| | Travel & Knowledge Will Increase |
| | Wars & Rumors of Wars |
| | Earthquakes & Famines Worldwide |
| | Pestilence & Disease Worldwide Like HIV, Bird Flu, Flesh-Eating Bacteria, Diseases with No Cure |
| | Signs Appear As Birth (Labor) Pains: Earthquakes Are Bigger & Occur With Greater Frequency |
| | Tribulations & Persecutions |
| | False Prophets Will Deceive Many, e.g. Harold Camping's May 21, 2011 "Judgment Day" |
| | Godlessness Throughout The World |
| | Apostasy (Falling Away) of Church |
| | Apostasy Before Rapture of Church |
| | Scoffers Question Jesus 2nd Coming |
| | Russian & Iranian Alliance (Occurred Nov 2009) |
| | Fearful Sights & Signs From Heaven |
| | Russia & Iran Invade Israel from The North |
| | Attack of Israel's "Unwalled Villages" |
| | Nuclear Weapons Used Against & Inside Israel |
| | The City of Damascus, Capital of Syria, Will Be Destroyed in a Single Day |
| | Rapture of The Church: The Dead & The Living Snatched Up To Heaven by Jesus Himself |
| | Popular World Leader Confirms A 7-Year Peace Treaty Between Israel & The Arab Nations |
| | Popular World Leader Survives A Fatal Sword Assassination Attempt |
| | Popular World Leader Has Withered Right Arm & Blinded Right Eye From The Assassination Attack |
| | World Leader Becomes So Popular, The Whole World Follows Him! |
| | Popular World Leader Becomes Anti-Christ, Goes Into The Temple, Declaring Himself Messiah |
| | Anti-Christ Exalts Himself Above All, Declaring That He Is God & Is To Be Worshipped As Such! |
| | Anti-Christ Speaks Blasphemies Against God; Rules Until Jesus' Second Coming |
| | Anti-Christ Reigns For 3.5 Years (1290 Days) |
Hover Mouse Pointer Over Blue Links Above To Reveal Full Bible Verse
Quick Take: The Centurion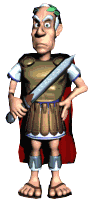 The Roman "Centurion" was an army commander in charge off 100 Roman foot soldiers ( a "century") or a similar number of support personnel. His rank was equivalent to today's U.S. Army Lieutenant or Master Sergeant. He rode a fine, Arabian horse and wore light-weight bronze armor. His weapons included a double-edged "Gladius" short sword (seen above) and a "Pugio" dagger for personal protection as well as a long sword for fighting from horseback. His enlistment in the Roman Army was for life.
If a Centurion's unit of 100 were mounted cavalry, they were called a "Cohort." The Cohort was used to protect Roman officials (like Pontius Pilate) and visiting dignitaries as they traveled from city to city. Road travelers were in constant danger from robbers and "Zealots," Jewish freedom fighters who attempted to drive the Romans from Israel by random acts of murder and terrorism. The Cohort could move swiftly and pursue attackers fiercely. In Acts 23:23-24, two such units of soldiers where used to protect Paul, as he traveled secretly by night to appear before Governor Felix, protecting him from roving bands of Zealots.
The Zealots were a small sect of Jews which originated with Judas the Gaulonite. Act 5:37 They refused to pay tribute (taxes) to the Romans, on the grounds that this was a violation of the principle that God was the only king of Israel. They rebelled against the Romans, but were soon scattered, and became a lawless band of mere brigands. They were afterwards called Sicarii, from their use of the Sica, i.e., the Roman dagger. The sect included some very famous names at the time, including Barabbas (who was exchanged for Jesus to be crucified), and oddly, Simon the Canaanite, who was a Zealot and one of Jesus' original 12 apostles! Matt 10:2-4 Their actions finally led to open revolt against the Romans from 66 to 70 AD, ending in the destruction of the Temple and Jerusalem by General Titus, son of Vespasian, and the scattering of the Jews all over the world. The last remnant of the Zealots were destroyed at Massada in 73 AD.