~~~~~~~~~~~~~~~~ Sunday ~~~~~~~~~~~~~~~
Communion Sunday, Aug 5, 2007 • 10 AM & 6 PM
& Gospel of Mark, Chapter 12 — Our study of Mark's Gospel continues with Chapter 12 of this fascinating account of the life and miracles of Jesus Christ. Jesus continues to teach in parables, as He confronts the Jewish leaders of His day, revealing to them who He really is and that the Kingdom of God is within their reach. Please join us this Sunday and learn more about the hundreds of fulfilled prophecies of the Bible, proving that Jesus Christ is God. Isn't it about time you make a connection with the One, True, Living God before it's too late?
Bible References
&

Mark 12:3

&

Daniel 7:9

&

Psalm 2:7

&

Mark 12:7

&

Exodus 40:34

&

Isaiah 42:11

&

Mark 12:46

&

Luke 16:19

&

Isaiah 66:24
What Does Jesus Look Like Today?
& Revelation 1:13
Taught by Pastor Jason Gant, attendees at this Sunday's service will have the opportunity to ask their Bible questions and take part in a brief discussion period after the teaching. Attendance is open to all, with the celebration of our Lord's Last Supper for believers at the conclusion of the service. Our "Coffee & Carbs Fellowship" and a special potluck luncheon follow the Communion service on the church garden patio.
Our regular weekly teachings include our Wednesday night in-depth Bible Study at 7:00 PM with Pastor Jason and informal gatherings for prayer every Monday from 12:00 PM to 1:00 PM and Saturday from 6:00 PM to 7:00 PM in the sanctuary. The Catalina Bible Church is located at 346 Catalina Avenue, just two and half blocks up from the Green Pleasure Pier. For more information, please call 310-510-0073. Please join us!
~~~~~~~~~~~~~~ Wednesday ~~~~~~~~~~~~~

Bible Study - Overview of the Pentateuch in the Main Sanctuary at 7:00 PM with Pastor Jason Gant
& Join Pastor Jason for an overview of the history, writings, and significance of the first five books of the Bible, the Pentateuch, which is also known as the Law of Moses. This 12-week study will give the Bible student a synoptic look at the Law, and how it relates to us as Christians today. Please join us this Wednesday and bring your questions. You have questions -- the Lord's Word has the answers! Our "Coffee & Carbs" fellowship follows afterwards.
~~~~~~~~~~~~~~~~~ Friday ~~~~~~~~~~~~~~~

Free Friday Family Movie • 6:00 PM (On Hiatus)
The Friday night movies for kids of all ages will be on hiatus until the beginning of the new school year this Fall. Boy, are we all going to miss that delicious, fresh-popped popcorn!
• Sun 7/29/07 10:00 AM

Cloud of Hope Worship Band

• Sun 8/05/07 10:00 AM

Communion Sunday Potluck Luncheon Follows

• Sun 8/12/07 12:00 PM

Robledo 50th Wedding Vow Renewal - Reception Follows

• Tue 8/28/07 8:00 AM

San Diego Museum Trip To Dead Sea Scrolls Exhibit

• Tue 9/04/07 8:00 AM

Avalon School Resumes

Full Class Schedule
Quick Take: The Widow's Mite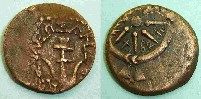 Click On Photo Above To Learn More About The "Widow's Mite"

The "Widow's Mite" is a bronze "prutah" (Hebrew for "small coin") of Alexander Jannaeus of the Hasmonian Dynasty, King of Judea from 103-76 B.C. Because these "leptons" (Greek for "small coin"), or prutah, were the lowest denomination coin that circulated in Jerusalem during Christ's lifetime, they are believed to be the very same coins that He referred to in the Biblical story of the poor widow.

These coins were carelessly and crudely struck, usually off center and in small flans (irregular metal disks). Legends are generally unreadable. Actual size is less than ½ inch in diameter with a value today of about a cent and a half. Their value at the time of Jesus' ministry was 1/20 of a silver Denarius, a day's wage. A single "mite" could purchase a small barley loaf of bread or a handful of fresh fruit. The widow of the Gospels, therefore, basically gave the last of her grocery money, "all that she had," to the Lord. What a sacrifice she made!

Read the Biblical account and read more information about the Widow's Mite by going to

The Widow's Mite webpage.


Slaney-McKinley Wedding (6/16/07)
Catalina Fire News Photos (6/06/07)
Dead Sea Scrolls Visit San Diego (6/01/07)
Dead Sea Scrolls Display Overview (6/02/07)
New Audio Series For Couples
Learning how to love and respect your mate can be challenging, to say the least! In his wonderful book of the same name, Dr. Emerson Eggerichs teaches all of us (using God's own principles from the Bible) how to love and respect your spouse. This new audio book is a "must listen" for singles trying to develop a Godly relationship with a future mate, couples who have a troubled marriage, or anyone who wishes to strengthen his or her relationship.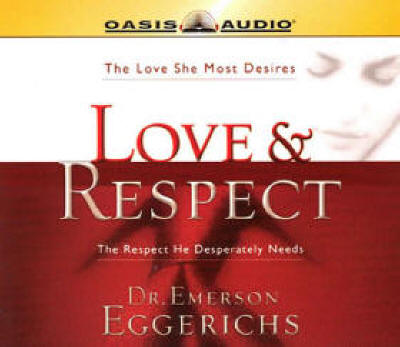 This fascinating teaching tool for men and women alike is now available online as an audio book, read by the author, Dr. Emerson Eggerichs, himself. Just click on the image of the audio book above or go to this link: www.catalinabiblechurch.com/marriage.
Do you have a question for our pastor? Is there something in the Bible that you are confused about? Email Pastor Jason directly by clicking below.

Or you may write to Pastor Jason at the following:
Pastor Jason Gant
P.O. Box 173
Avalon CA 90704-0173

Sunny Catalina Island Is Our Home!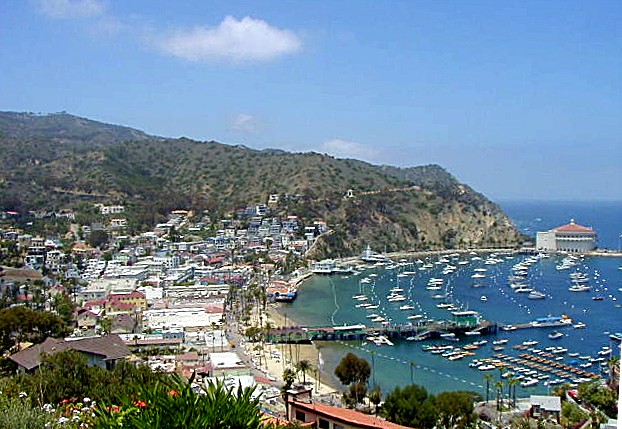 The Harbor at Avalon, Catalina Island with Its Famous 1929 Casino In The Background
Walk Just 2 1/2 Blocks Up Catalina Avenue From The Green Pier To Find Our Church
Move Your Mouse Pointer Over Items In Photo For More Information

Thank You For Visiting Us!
Visit our website often, as we will be making changes and additions, all with the purpose of making your visit with us enjoyable, fulfilling and most of all, glorifying to the Lord, our Living God. God Bless You!
Pastor Jason